Follow the steps below to use your Employee App to apply for leave.
You can also use this process to check and see:
Your available leave balances
View a history of leave taken
See the status of your leave applications and edit them.
View any upcoming leave
To View Leave Balances, Upcoming Leave and Leave History
Login to your employee portal: yourcompany.foundu.com.au
Select the Time Off button at the bottom of your screen.
Here you can:

View available leave balances. To see more scroll to the right.
See all your upcoming leave. You can edit your application here if needed.
View a history of all past leave applications.
To Apply for Leave:
From the Home page, you can either select the Apply for Leave button or the Time Off button at the bottom of your screen.



Select the 'starting from'

day for the leave to take effect and the

'until'

day for it to finish. You can select

'take partial leave on first day', where applicable, if so, you will need to select the 'hours of leave this day'. More about submitting a partial leave day here.
Press OK.
Once you have finished your date selection, your screen will summarise your total days requested. See below, 'Request 4 days'.
Select the leave type you would like to use from the available types. You can scroll to the right to see all leave types (annual leave, personal leave, LWOP, etc) that are available in your profile.



Please note:

You may not see all balances if your business has chosen not to have these display. These instances it may say 'balance hidden'. In this case, you can still apply for leave by selecting that type, but contact your direct manager for balance enquiries.





Enter a Reason for your leave request e.g., Holiday, Appointment, Family Commitments.
Upload a supporting document, where applicable (medical certificate, etc)
Confirm the request by pressing the Use Annual Leave button. This will send your application to your employer for approval. You will be sent an email notification when your leave has been approved.
What if I don't have enough leave for the days I have requested?
If your leave balance is not sufficient to cover the number of hours you have requested, the system will use unpaid leave to cover the gap. A warning will display to let you know that this is occurring.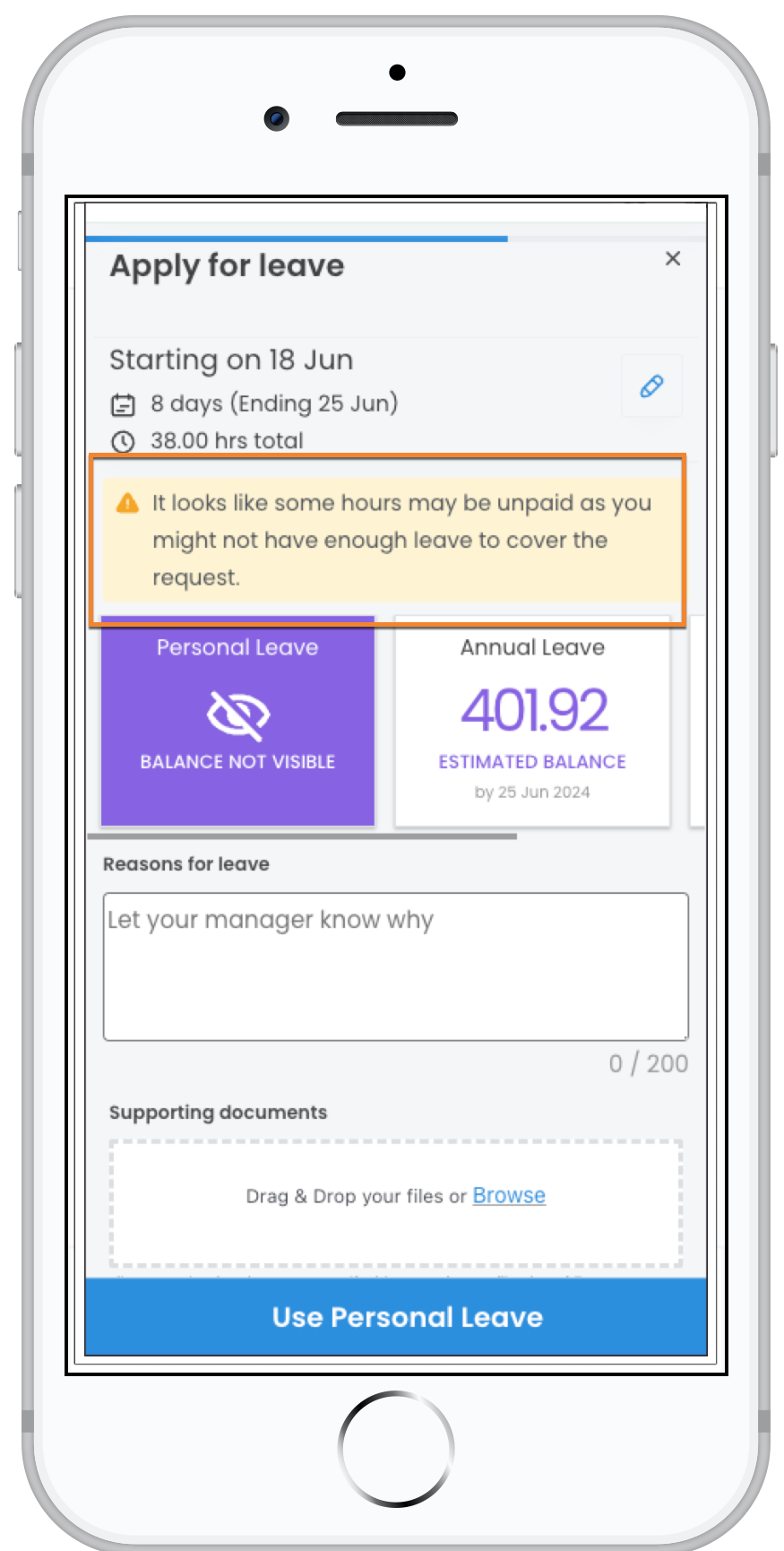 You may be able to go into a negative leave balance, however this this at the discretion of your employer.
How can I forecast my future leave balance?
The system will forecast your available leave, based on your current average weekly hours worked, and will display and 'Estimated Balance' as of the date you are requesting for.
For example, in the image below, the employee Adam is estimated to have an annual leave balance of 59.40 based on his weekly hours worked. Please note if Adam's regular hours change drastically and he starts working far fewer hours, this estimated balance will reduce.
What if the leave type I would like to use is not available?
If you do not see the leave type that you're after, you'll need to speak with your manager. Only relevant leave types will show.
For example, if you are attempting to use compassionate leave or parental leave, you will need to speak with your manager to set this leave type up for you.
What if I see days greyed out and I cannot select them?
If in this case, you will have a conflicting Leave application. Please review your existing leave applications through 'Upcoming Leave' before proceeding.
You might also be interested in