If you are a casual staff member, your employer may require you to update your availability to help with rostering / sending you shift offers.
You can also request to take leave (LWOP) if this an option provided by your employer. In other cases, you may have accrued long service leave and may wish to use this leave type.
This article includes:
Updating your Ongoing or Once off Availability
Requesting Leave as a casual
Updating your Availability:
Login to your employee portal or foundU Employee App.
Select the Time Off icon, or select the hamburger icon > Time Off > Availability.




Select the Availability > Change Availability button.
Select Change Availability.
Choose either:

'Ongoing': your available times will be recurring indefinitely, meaning you cannot be rostered on your unavailable days, or;
'Once off':

your request will be made for a specific day or group of days only.
Updating your Ongoing Availability:
Select the date the change is to start.
**Please note, if you cannot select a date, your employer may have a set period of warning required before the change can take effect, or you may have another leave or availability request for the same date range.
Select the relevant day/days.
For those days, select one of the following



Unavailable - Not available to work for the entire day.
Available - Available to work for the entire day.
Partial - Select the hours within the day you are unavailable to work e.g., 9am-12pm.
You can also +Add another time span for other hours throughout that same day.
- Then add in the Start and End time.

Click +Add another time span

to any additional times.

Repeat steps 2-4 for any other days of the week by pressing +Set other days.
Select the date in which your change will start to apply

. Keep in mind your employer will have a notice period for availability changes

e.g., 3 weeks in advance
Click Update Ongoing Availability

.

Before you do, you will be able to review your changes, details are located directly above the Update Ongoing Availability button.
Updating your Once off Availability:
Remember, this is a request for a non-reoccurring day off. e.g., a uni exam day
Click Add Leave or Change Availability.
Select Change Availability > Once off.
Select your date range for your once off request.
Select your Availability type from the drop down:
(Unavailable-Available or Partial)
Add a reason for your request e.g. Uni exams.
Click Save. The 'i' indicate that this is a

request only

and will not come into effect until your manager approves it.


**You can also use your Once Off request to override your usual availability. Once granted this request will allow you to be available without affecting your usual availability pattern.
For example, when you are on uni holidays and are now available to work days that you have previously marked as unavailable in your ongoing availability. (See below example)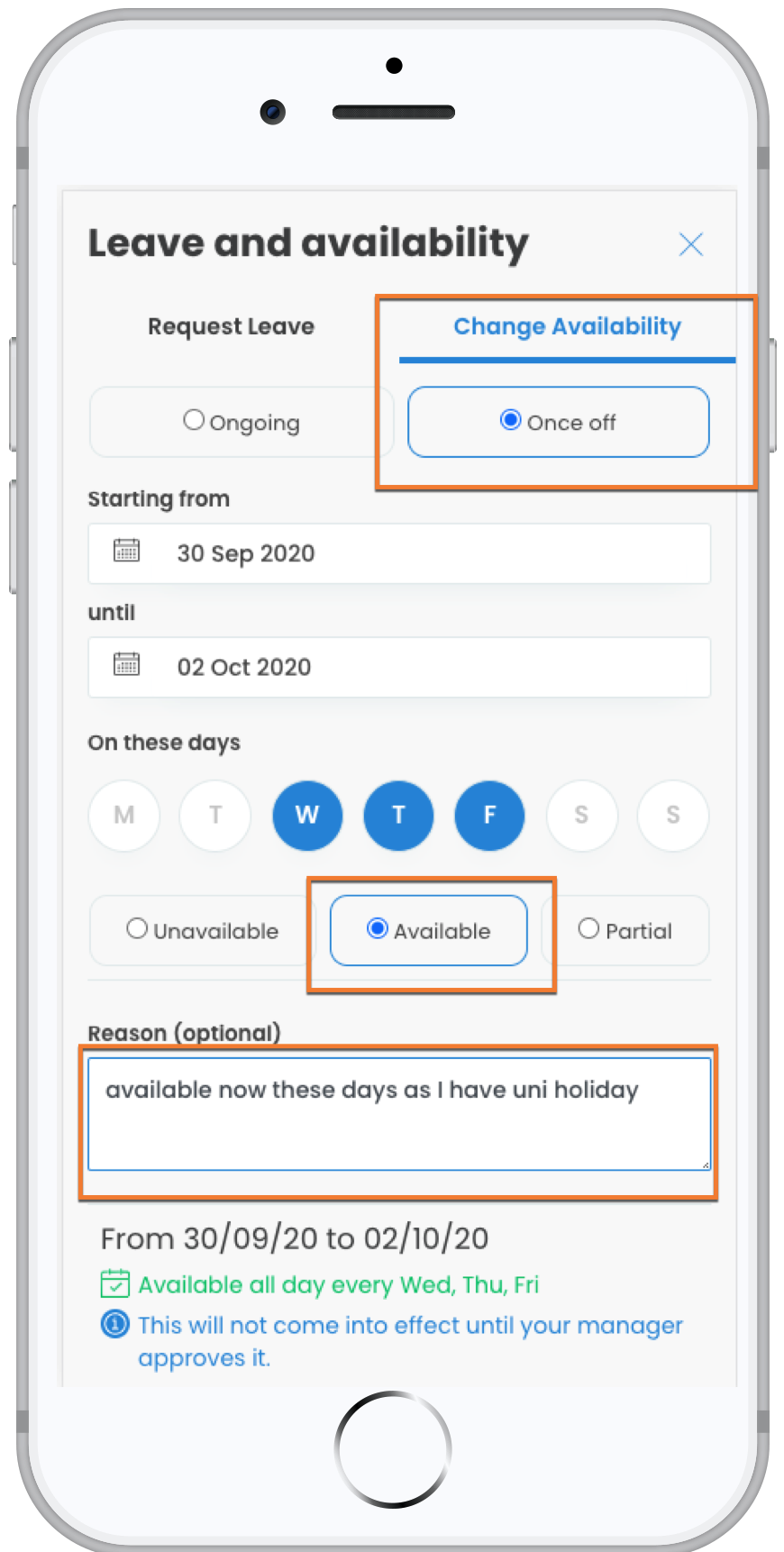 All Once Off requests will remain as Pending until your employer has approved or declined them. Once approved this will update and you will be sent an email.
Requesting Leave as a Casual
If you are a casual employee, you may be able to submit a leave request for LWOP (leave without pay) if your employer has provided this as an option, or Long Service Leave (if you have accrued this entitlement).
To request leave:
Click Time Off.
Select Leave.
Click on the type of Leave you would like to use for your request.
Select the 'Starting from' date. Select partial day on the first day if applicable.
Enter the number of hours per day or the total hours you would like to take across the date range.
Select the 'until' day. Then select the blue button that says 'Request xx days' the bottom of the screen.
Add a reason for request for your employer to view.
Review your selections and press Use Annual Leave.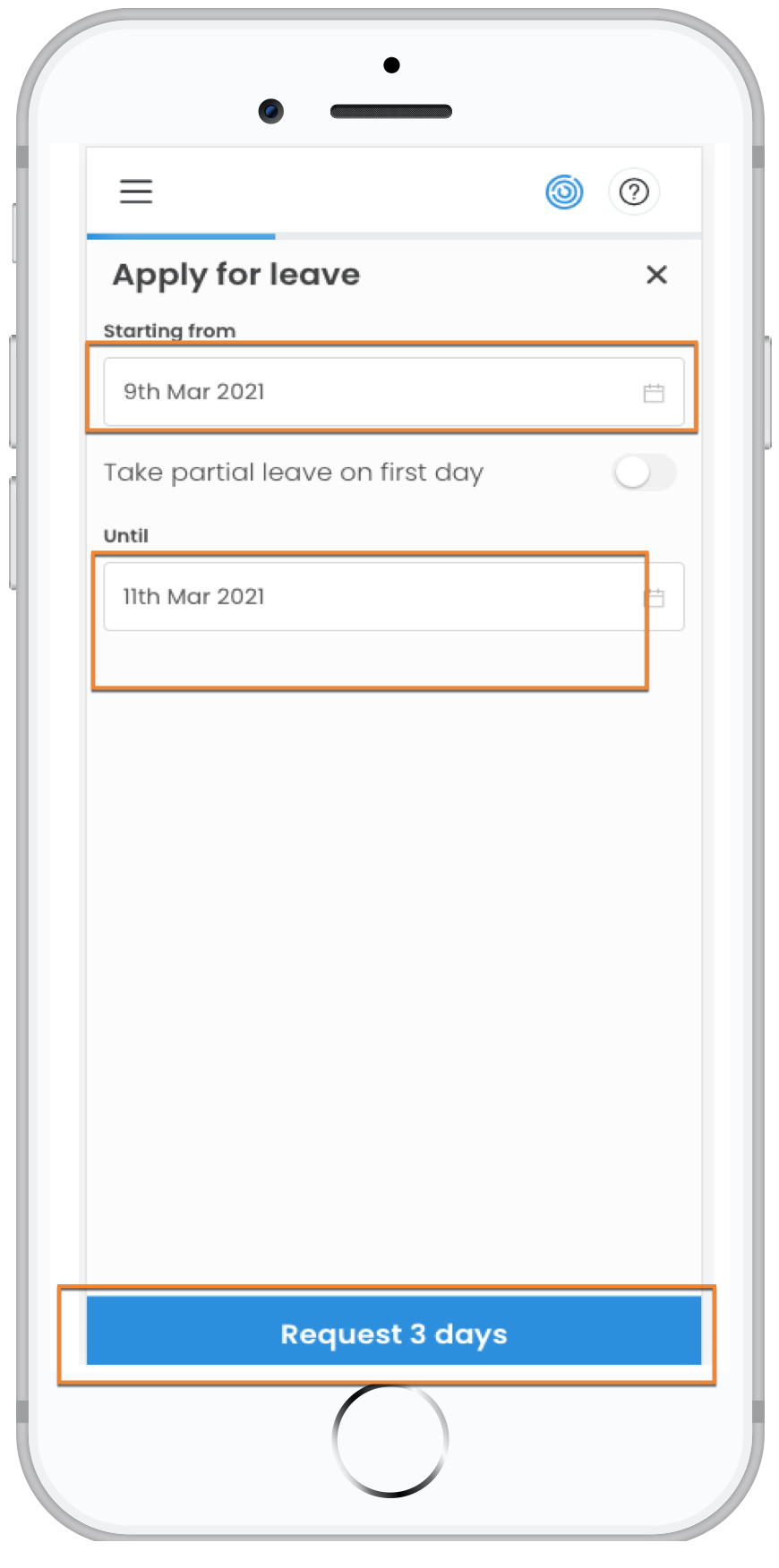 You will be notified if and when your leave has been granted once your employer has done so.