To update or change your bank account or superannuation details through the Employee portal.
1. Select View Profile from the top menu (when viewing on a laptop/computer).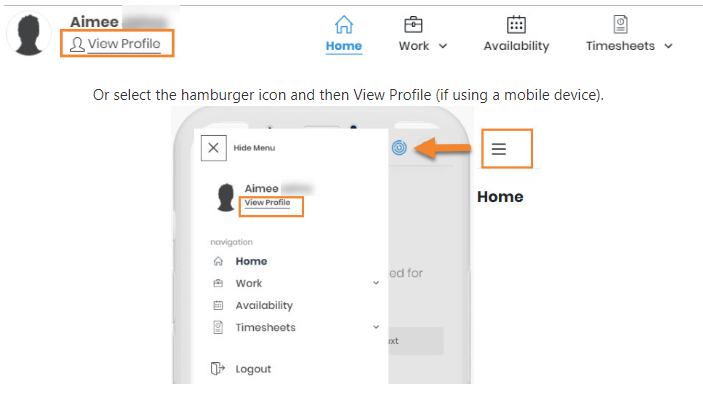 2. Select Financial Details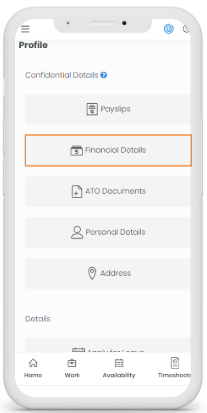 To edit your bank account for your pay:
Enter in the new Account Name, BSB and Account Number.
Scroll to the middle of the screen and select Update.
To add a second account if you would like to split your pay between multiple accounts:
Select + Add for Additional Accounts and enter in the details for the second account (Account Name, BSB and Account Number).
In the Account Amount you have the option to select a specific amount (in $) that you would like to go into the second account or a percentage (%) e.g. 50%.
The frequency of the payment will be the same as your pay. For example if you are paid weekly or fortnightly then the amount entered will go into the two accounts weekly or fortnightly.
Additional Tax
You also have the ability to select additional tax to be paid each pay.
if you choose this option you can select the $ value that you would like to have additional tax paid each pay.
This could be for personal reasons such as 'forced' savings at tax time or due to an external payment to prevent having a tax bill*.
*All amounts are reported to the tax office and your bill/refund will be determined by the Australian Tax Office (ATO).
To change your Superannuation account details, you'll have three options to choose from:
Self Managed Super Fund (SMSF)
If you have a Self-Managed Super Fund (SMSF) select 'Yes' and fill in the SMSF details.
You won't need to fill in the other fields relating to default fund, or other super fund.
Click Update to save.
Join the Employers Default Fund
If you would like to join the employers default fund, select 'Yes', this will pre-fill the default fund details in the Super Fund details.
A member number

will not

be required as this will be allocated once the fund is set up for you.
Note: Click Update to save.
Choose your preferred Superannuation Fund
If you have a preferred Super fund that is not a SMSF, in the Super fund details search for the fund by either product name, fund name, ABN or USI code (typically found on your superannuation statement or Super funds website).
You'll also need to enter in your existing membership number.
Click Update to save.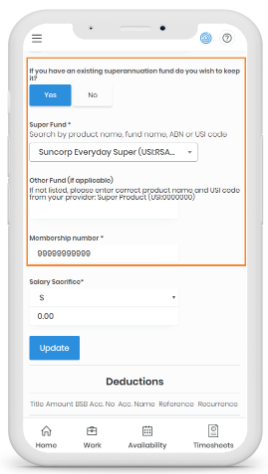 You can also elect to pay extra funds into your superannuation through superannuation contributions.
There are two options available:
1. Salary sacrifice (which is generally taken out of your pay before-tax amount) or
2. Additional personal contributions (which is generally taken out of your after-tax or net amount).
To salary sacrifice (into your superannuation account):
Select the dollar value ($) or percentage (%) and enter in the amount that will be salary sacrificed each pay (e.g. weekly/fortnightly depending on your pay frequency).
Click Update to save.
You may elect to make Employee Personal Super Contributions
Select the dollar amount ($) that you would like to contribute to your superannuation per pay period
Select Update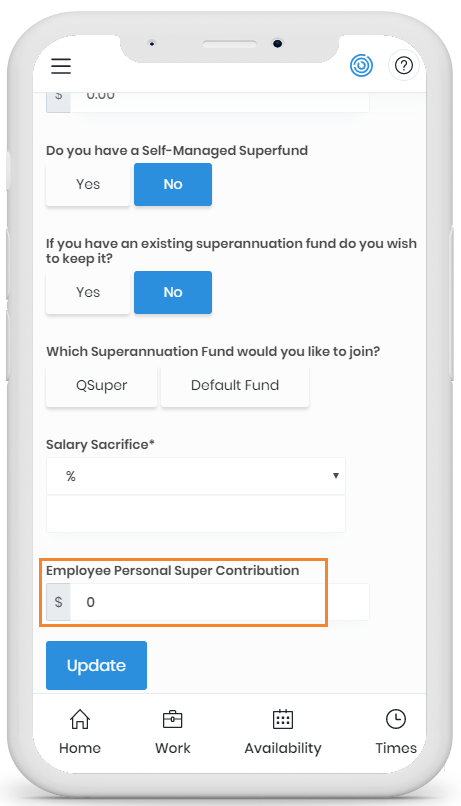 Note: If your admin has assigned a Deduction Type to your profile you may also be able to see the Deductions Screen.
This is where you're able to enter in Deductions that you may have. An example of a regular deduction may be child support. To enter in a Deduction (optional).
Select the Type e.g. Child Support (%)
The Account details
If the deduction is a one-off or recurring
The amount
Any relevant references
The start date and Recur til date (or leave blank to continue indefinitely).
Note: Ensure to click 'Add' to add the new deduction.